The Nittoh R&D Team always answers the most challenging requirements for yet-to-be developed technology directed towards the future. But it is not only our R&D Team-members who are committed to the challenge. What makes Nittoh stand out is the contribution of members from every division including engineering, quality assurance, factory operation, purchasing, and others. Staff-members across the organization frequently gather to have heated debates in order to produce the best possible results. In these debates we often come across ideas enhanced by our ability to think outside-the-box. We are flexible, and we can tailor a one-of-a-kind lens which may also be the "only one" in the world, showing superb craftsmanship. At the same time we can handle small R&D to big projects, all to accommodate our clients' needs. Nittoh continues to deliver products that no other company in the world can provide. This is our basic attitude toward business.

Nittoh possesses a complete development system from optical and mechanical design to electrical design. We are a versatile optical manufacturer, answering to diverse needs from various fields, such as lens units for projectors, digital cameras, and measurement equipment, as well as professional needs such as cinematography, photography, and teleconference system and space exploration-related optics.
[Optical system design] Various types of cameras, microscopes, light guide plates, automotive lighting displays, head-up displays, laser printers, photo applied measuring devices, photo applied processors, optical applied office automation, medical optical instruments, auto analyzers, laser application devices, and so on.
[Optical lens design] Various types of interchangeable lenses (fixed-focus lenses, zoom lenses), video camera lenses, digital camera lenses, cell phone camera lenses, in-vehicle lenses, copier lenses, facsimile lenses, microscope objective lenses, pick-up objective lenses, beam expanders, eye pieces, scanner lenses, excimer lenses, lighting optics, special prisms, crystal optics, and so on.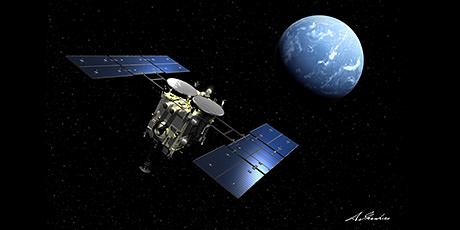 JAXA's asteroid explorer, HAYABUSA 2 and its planetary exploration rover MINERVA 2, was mounted with ultra-wide low distortion lenses especially developed by Nittoh. They are not only durable against the radiation of space, but also realize wideness without distortion, giving high precision images even to the periphery. Moreover, we have succeeded in downsizing to 1/3, as well as making them approximately 15g; 1/10 of the weight of existing lenses with similar performance. HAYABUSA 2 is projected to reach its destination, the C-type asteroid Ryugu , in 2018, and then to return to Earth at the end of 2020.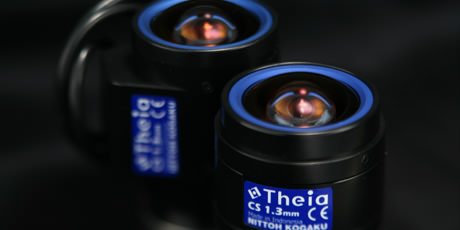 Theia is an ultra-wide, low-distortion-lens developed jointly with Theia Technologies, a US company.
Although the Theia lens is small and compact, its high-resolution capability will work excellently on a 5 megapixel camera. The wide-view image captured by this product is undistorted to the rim, allowing monitoring of an area with fewer cameras.
Its application is not just limited to the security industry for crime prevention; it can also be used in various fields such as Factory Automation (FA).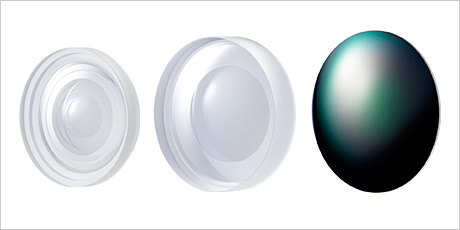 Nittoh is able to manufacture round optical elements ranging from φ1mm~φ600mm, square and irregular-shaped elements, long elements up to φ400mm, prisms up to 300mm, and cylindrical lenses up to 400mm.
We can also fabricate all kinds of surfaces such as flat, spherical, aspherical, and cylindrical surfaces. Nittoh can manufacture elements to a high surface accuracy of λ/20. Nittoh is one of the only owners of a MRF (Magnetorheological Finishing) machine in Japan. With the superb polishing capability of this machine, we are able to accomplish surface accuracy of λ/40, even for 400mm large diameter lenses.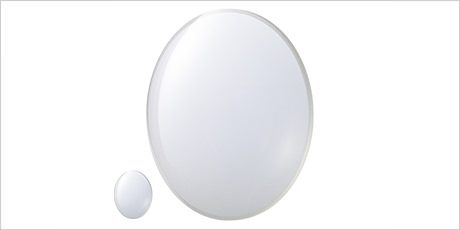 Nittoh is capable of manufacturing wide diameter lenses up to φ600mm, the largest level in Japan. Furthermore, we have the system to manufacture lenses used for infrared light made of germanium (GE), lenses made of metallic materials such as silicon (Si), and lenses used for medicine and numerous other applications using quartz and monocrystalline quartz.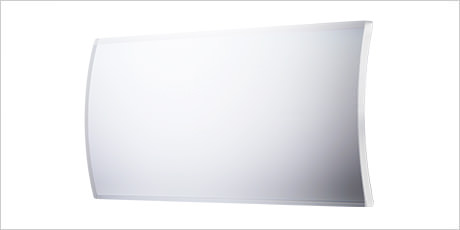 The cylindrical lens is unique in character with curved and flat optical surfaces. Depending on the direction of incidence of the light that enters these lenses, that light will either be refracted or travel straight ahead. By enabling two different reactions in one lens, this lens can collect unidirectional light or divergence. Its applications include laser printers and copy machines.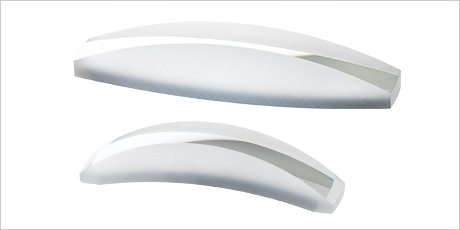 fθ (f-Theta) lens is used in laser printers and markers.
Normal-focal-length lens distortion:y=f・tanθ
f-Theta lens distortion: y = f θ [y = image height][f = focal point][θ = angle of incidence]
With the f-Theta lens, lasers maintain constant scanning speeds.
By having different curvatures on the front and back of the lens surface, the f-Theta lens is designed to maintain constant scanning speeds at both the lens center and on the periphery.